Ramp Randoms: Five Ways Timothy Olyphant Can Improve Your Love Life
Posted April 11, 2013 by Dave Higgins in
Ramp Lists
You may not have a Netflix subscription, or you may be one of those people who pay careful heed to the finicky grey area of internet copyright laws, so you may not know this: Timothy Olyphant is doing amazing things on television. Justified has just finished its excellent fourth season and all you sad saps unlucky in love could probably do yourself a favour, visit or revisit it with a pen and paper, and take notes. For the rest, here's the bullet points on how everyone's favourite shoot-first, ice-cream eating Deputy US Marshall Raylan Givens can improve your love live.
1. Get Yourself a Cowboy Hat
This may be the most difficult one to master — and bear in mind we will be telling you to brandish a firearm in about four bullet points' time. Executing this in a non-ironic manner and not looking like a dick is pretty difficult here. Also, for God's sake, if you're gutsy enough to try, don't do your hat shopping in Carrolls. A bright green ten gallon hat is not the look you're going for. Not even on holidays, not even on Paddy's Day, not ever.
2. Update Your Wardrobe
I'm sure he didn't create this style, but there's no one out there flying the flag for the the check shirt/suit jacket combination more than Raylen Givens. Offset that with a plain black tie and you'll have all your co-workers popping marshall stiffys.
Looking for something on your day off? Let me introduce to the Canadian tuxedo, the quintessential daring denim on denim look. Again, like the cowboy hat, there are many ways to go wrong here. You're looking for a sartorial look like the image above, not this one.
3. Walk With a Purpose
(Skip to the 9.20 mark above for a glimpse of how a real man walks.)
The criminally short-lived HBO show Deadwood was absolutely astonishing and Timothy Olyphant's step-the-fuck-out-my-way walk as Seth Bullock might just have been the best thing about it. Bear in mind this a show where Lovejoy perpetually delivered beautifully vulgar monologues while the women of the Gem Salon performed all manner of acts on him and whole NSFW conversations were held through vocal inflections of the word 'cocksucker'. In the pantheon of TV walks, Olyphant's sits proudly at the top, narrowly edging out Cedric Daniels from The Wire's office power-glide.
The technique: hands by your sides; shoulders slightly slouched; stare dead ahead and walk like you have a purpose, preferably a purpose that is going to cause someone great amounts of harm. Having a gun in and around your person helps too. Forget egregious amounts of horse fatalities on Luck, the fact there is no video evidence of this walk on the internet, let alone a Tumblr dedicated to its graceful majesty, may be David Milch's greatest television failing.
4. Be a Cheeky Bastard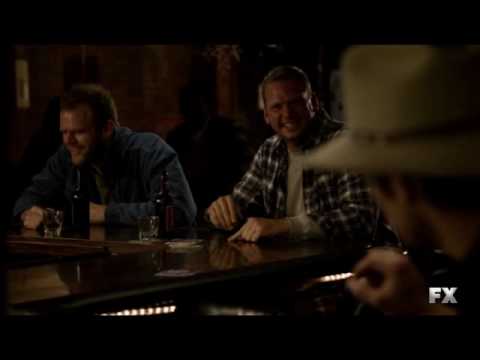 Whether you're talking to your deadbeat criminal da, a lady of the night or a member of the Dixie Mafia who has a gun pointed at your noggin, be a charming, yet slightly arrogant son of a gun.
Sure, you'll find yourself in a few more fist and knife fights than you care to recall, you might even have to produce pistols at dawn, but remember, everyone secretly loves a prick.
5. Exercise Your Right to Bear Arms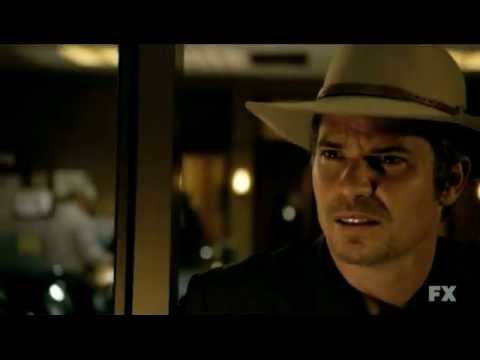 Don't believe all that left-wing media propaganda. If watching four seasons of Raylan Givens has thought us anything, it's that guns are very much in. And what, pray tell, is sexier than a man who carries a pistol around with him at all times? Why, a man who isn't afraid to use it. I can't stress the importance of a holster here. No tucking your gatt in the back of your jeans, lads; wear that piece proud and keep your hand hovering, ready to draw it at all times. As Art Mullen would say, that's some badass shit.