Sport: Oval Digest – All Square Again As Ireland Improve
There were plenty of similarities to the England game at play on Saturday. A dreary Dublin day, an injury-hit Ireland taking on a big pack, a broken and battered Brian O'Driscoll and another second half mini implosion.
This time around, though, the lack of a steady fly half cost the visitors.
Let's call a spade a spade here: Ireland would have lost that game had Francois Trin-Duch started at 10. The mercurial Michalak is many things, but all too often the ridiculous supersedes the sublime when Freddie's on the field. The decision to kick the ball away at the end of the game was a snapshot of the Toulon man's performance, though in fairness, it's the fault of the coach that he's being picked out of position.
This was a much-improved Ireland performance from the Scottish game. The intensity and tactics were generally spot on, while Ireland's young bucks in the crucial pivot positions were excellent. Murray in particular, a poor outing in Murrayfield excepted, has been growing into his role as Ireland's number 9 all Spring, and had perhaps his best day in an Ireland jersey.
The athletic Limerick man took the pressure off his green 10 with some great kicks, smooth service and bruising physicality, while Jackson's nerves to slot three difficult kicks in shocking conditions really showed the young man's mettle.
The decision to take off Murray early, fatigue notwithstanding, was slightly perplexing. If ever there was a game that didn't suit Eoin Reddan it was this one. Ireland needed a cool head to slow things down and play the percentages. While Reddan did ok prior to a horrific injury that ended his afternoon, the management must be questioned for taking off a top performer.
Murray's fellow Munster man, Donnacha Ryan was removed early too, and again this was slightly surprising, given the second row's bruising play and lineout takes.
A good showing in Rome will surely place both men into the Lions shop window.
Elsewhere, Ireland's back row really stood up and were counted. Peter O'Mahoney, who's been criticised for being a little light in recent games, had a barnstorming game, while O'Brien and particularly Heaslip were excellent in the tight.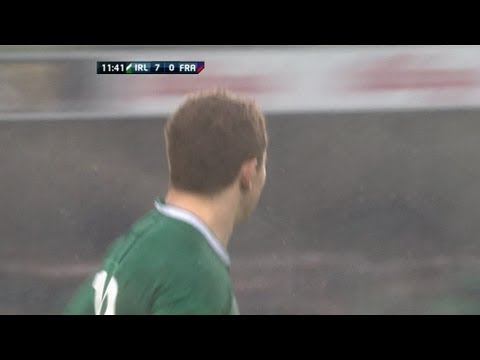 Many will look to Heaslip's fellow 8, Picamoles, and question the Naas man's carrying stats, but the fact is the Irish captain's game is completely different to his Toulousain compatriot's, and is now more focused on close-in combat. Heaslip does the dirty work, giving his his two fellow back rows given license to do more roaming, and showed character to lead with aplomb.
Unfortunately, Ireland again struggled to generate quick ball and to break the line. Marshall was quiet at 12, and ferocious French tackling from the likes of Dusatoir and the two bruising centres stopped much momentum at source.
The draw wasn't a fitting probable end to the legendary career of one Brian O'Driscoll, and had Steve Walsh not interfered illegally with the decision of the TMO perhaps we might have had a fairytale ending.
The image of a dazed number 13 conversing with his wife and young daughter at 80 minutes will surely go down in Irish rugby history. We've been privileged to see this man in action.
Overall, Ireland will be unhappy not to have won, and issues with consistency and the second half gameplan continue to rear their head. That these haven't been stemmed must surely spell trouble for the management, but, nonetheless, Ireland will be expected to put in a big performance in Rome for St. Patrick's weekend.
Expect minimal changes and a big Irish win and lets hope her dear old Dad will finally give Sadie something to celebrate too…
A word too for the Irish women, who will go for a grand slam next weekend, a huge achievement for women's rugby in this country. Go n'éirí an t-ádh leat cailíní!
Featured image from Irish Rugby's official Facebook page.