Oval Digest: Errors And Tactical Drought Define Ireland Yet Again
Unfortunately Brian and Amy won't be able to regale young Sadie with tales of a famous win over the auld enemy come her formative years, though one would imagine this game will be consigned to the history books by most Irish fans very quickly.
For the first time since New Zealand last Summer, monsoon-like conditions greeted an Irish side with expectations on their shoulders. Like New Zealand, Kidney's men failed to perform yet again.
Talk before the game was of an English pack, and particularly front row, that was set to cause Ireland problems. However, most savvy writers saw that last year's St. Patrick's Day Twickenham scrum disaster was an anomaly, and indeed it was in other areas that Ireland lost out.
Errors littered the game, particularly from the Irish side, with easy catches missed, lineouts overthrown and stupid penalties telegraphed for Mr. Garces. England hadn't come to play rugby, and they didn't have to for the most part, as Ireland constantly huffed for momentum and puffed with a poor error to relinquish it. The talk from the opposing camp during the week was that Ireland were 'the best in the Northern Hemisphere at ruck time'. Big brutes like Launchbury, Haskell and captain Robshaw targeted both the ruck and Ireland's famously dour 'choke tackle', and no answer was forthcoming for most of the 80.
Declan Kidney mentioned that 'there was no Plan B'. For some reason, the Irish rugby media hasn't picked up this strange comment.
Meanwhile, young Owen Farrell was the best playmaker on the pitch, with some excellent kicking from hand. Farrell did his Lions chances no harm with some solid goal kicking in a match winning performance, albeit England operated a no risk strategy outside their number 10.
But enough about our visitors; what of this Irish team that has almost reached French status in its two-faced, inconsistent nature? In his post game interview, Declan Kidney mentioned that 'there was no Plan B'. For some reason, the Irish rugby media hasn't picked up this strange comment, though it may point to, ultimately, the reason why the Corkman's team seems to constantly flatter to deceive. Ireland simply had nothing in the second half bar the brute force of the maul and a few strong scrums.
Captain Heaslip had possibly his worst game in an Irish jersey, and should have been taken off for Chris Henry after fumbles and crazy penalty concessions. Cian Healy seemed more intent on dirty play than getting down and dirty, and despite all his good work in the loose, Rory Best's lineout again misfired.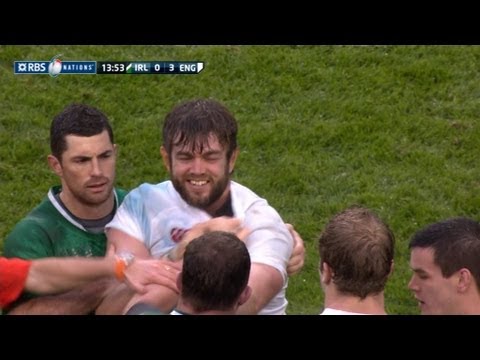 The losses of Zebo, and in particular Sexton, were hard to take for Ireland. Despite the media clamour and some typically frothy commentary from Hook and Linehan, Ronan O'Gara again showed why he should be at home with the feet up rather than on the Irish bench. ROG stood deep, allowed the English defense to drift onto D'arcy and O'Driscoll due to his lack of physicality and offered the coup de grace of a short, sharp pass to that notorious ball carrier Mike Ross in his own 22. The big man duly knocked on and thus ended a passage that showed Ireland's supposed 'attacking tactics' up. The half time talk was that ROG was going to kick us to victory, though the great man showed more in lashing out at an Edinburgh player last month than he did with his kicking from hand and tee. There was even a fairly routine miss from the ground, though given Kidney's previous form, he'll retain his jersey for Scotland.
Elsewhere, the outside backs got little good ball, though Kearney was solid at full back and Earls looked dangerous when entering the fray for his Munster team-mate. Murray, too, showed up well and has cemented his place at #9.
Overall though, Ireland realistically rarely looked like threatening the Irish line, and weren't savvy enough to move the English team around the pitch.
The Grand Slam dream is over for another year, and with probably three key men in Sexton, Zebo and Healy out for the next few games, Ireland's 6 Nations are looking weak again.
Welcome to the world, Sadie. Hopefully we'll give your Dad some better memories to end his career with before it's too late.