Oval Digest: Penney Needs To Drop As Munster Prepare For Battle
It's rocky times for the red province, and this week will tell a lot about the tenure of Rob Penney. Missing four definite starters, but packed with talent and leaders, Munster went down with a whimper away in Glasgow last Friday, and looked a shell of the side that once frightened all and sundry in epic European battles.
Glasgow opened the floodgates in the second period, offering a shelling of the Munster defence that hasn't been seen since last season's Rabo semi against Ospreys. Eventually running out 51-24 winners, the home side has built a bit of a fortress out of their new Scotstoun home.
In truth, though, Munster made it too easy for Warriors. Turnstile tackling in the centre (Casey Laulala looks a shadow of his Cardiff days) and an incredible three interceptions put a gloss on the score line and this wasn't the Heineken preamble that Munster wanted. Ryan, Murray, O'Mahony and likely Zebo will return this weekend to bolster the starting 15, and we're sure to see them put up a performance, but you fear the English champions might just have too much at home.
It's a Catch-22 situation for Rob Penney. At this stage of the season, you'd expect his new, fluid, Canterbury-inspired game plan to be bearing fruit. The reality is
that Munster have looked at their most dangerous playing a tighter game and taking it close in through the forwards. A move away from the new strategy would surely be considered a comedown for the hardnosed Penney, though the skill set and playing base he possesses now bears little resemblance to the all singing skills of some New Zealand's premier team.
Combined with this, the continued selection of players like Williams, Laulala and even Felix Jones is slightly strange, while Ronan O'Gara again looked every minute of his 36 years last weekend, playing deep and not threatening. How Munster use the 10/12/13 axis will be key, but with such little overlap in the games of ROG, Downey and Laulala, one would wonder about this corridor. Quins look the far more dynamic of the two teams, but don't rule out another once in a lifetime Munster performance. It may be too little this time though.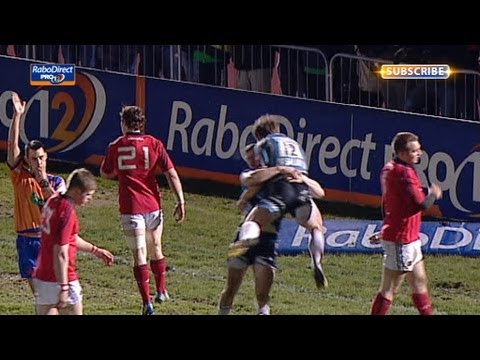 In Dublin on Saturday, Leinster fans got a glimpse into the future perhaps, with a makeshift backline devoid of D'arcy and O'Driscoll, and the continuation of Ian Madigan's number 10 odyssey. Losing D'arcy pre kickoff and Macken early in the game due to injury were huge blows to the home side, and devoid of any attacking rhythm, they had to rely on Madigan's boot for points. Leinster will face down Wasps away on Friday hoping their forwards can get the upper hand and expecting a few key injury returnees. Expect a Leinster win, just.
Ulster, for their part, were by far the better team. Pienaar, Jackson and Olding looked solid in key areas, while Ricky Lutton, making his first start at TH prop, held up Leinster's scrum and never flinched against the marauding Healy. This was a key win for the Northern province, as they ready themselves to 'make Twickenham home' on Saturday, for what should be a cracker against Saracens. Expect a huge white horde and a very, very tight game.
Connacht got rained off in Italy after monsoon-like conditions in Treviso.
Of course, away from provincial action, the big news so far this week has been the sacking/termination/non-renewal of Declan Kidney as Ireland manager. One can never second guess the IRFU blazers, and while this was coming for a while, it's good to get a fresh start for Irish rugby.
Kidney's legacy will be different for many. Some will remember a man who is rightly the most decorated Irish manager ever, and look back with fondness to Cardiff in 2009 and the Australian win in WC 2011.
Some, meanwhile, will focus on the 60-0 drubbing away in New Zealand, the constant strange and conservative selection choices and the awesome failure to capitalize that was the loss to Wales in New Zealand.
In truth, there's merit in both arguments, and, though Kidney should have gone earlier perhaps, the new coach will have his work cut out, as it's a thankless task. Thanks for the memories, Declan.