Oval Digest: O'Connell The Main Talking Point As Leinster Smash And Grab
Pre kick-off, it wasn't too hard to know what was going to take place in this game. The biggest pro derby in Irish sport is generally a fractious, dour and low scoring affair, incredibly difficult to referee and normally ending with one side feeling aggrieved. This time though, it was the winners who felt hard done by.
Both sides came into the game on the back of impressive away European wins in southern England, though one suspects there was a little jealousy in the Leinster camp throughout the week, as most media outlets focused on Munster's unexpected heroics at the Stoop.
Surprisingly, the crowd was relatively sparse for this glamour tie. Plenty of free spaces perhaps pointed towards the respective league standing, and the travelling Munster hordes that will converge on southern France in two weeks' time.
On the pitch, the action was predictably frenetic, with plenty of talking points. Leinster started the better of the two sides, with a controlled, albeit not very penetrative style of play leading to an early 9-0 lead, courtesy of three Madigan penalties. In the midst of this, the first key refereeing decision was unfortunately to set the tone for the night.
A Leinster turnover was quite obviously knocked on by Cian Healy, which should have meant advantage over. This wasn't spotted however, and a kick from wing Nacewa put Rob Kearney into a footrace for the line with O'Callaghan. Smart play from the Cooley fullback got him over the line for a certain score, yet Nigel Owens went upstairs, and with the incorrect question asked ('Try or no try?' should have been 'Any reason I can't award the try?'), Leinster left empty handed.
Munster needed a response, and quickly got two, though again, the decisions were questionable.
After a barreling run from O'Mahoney, who showed again why he might be a Lions contender, possession was turned over to Leinster.
Hooker Damien Varley, obviously off his feet, snaffled possession illegally under the eyes of Owens, and some quick hands put Keatley in for a try.
Soon after, the third contentious decision incensed the Leinster players. Quick, red zone ball was spread wide by Murray, and an on-rushing O'Driscoll was quite obviously impeded from making a tackle by James Downey.
The rule is, quite simply, that you can run your lines and stand your ground, but the burly red 12, who excelled last week, quite obviously moved into O'Driscoll's path.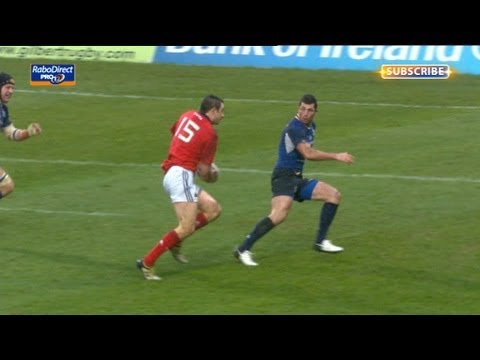 In any case, O'Driscoll may or may not have gotten there, and Jones weaved around the cover to give Munster their first lead. Madigan was to claw back another penalty to send the visitors in 10-12 up at the break.
The second half was to be another vicious battle at the breakdown, with Munster obviously harnessing last week's performance, and, cognisant of the way that Ospreys tend to handle Leinster, attempting to constantly slow ruck ball and frustrate.
A huge Keatley kick put them 16-12 up, and with Leinster's subsequent inability to break the gainline or get the backs going, you felt there was only going to be one winner.
However, in increasingly deteriorating conditions, Leinster were to get one more chance. This felt like last chance saloon, and after 25+ phases, reminiscent of a famous home team score at the other end of the ground, O'Driscoll finally flopped over close in.
The last 10 was more about defence than attack, with a vital Heaslip turnover finally taking the wind out of a tired Munster.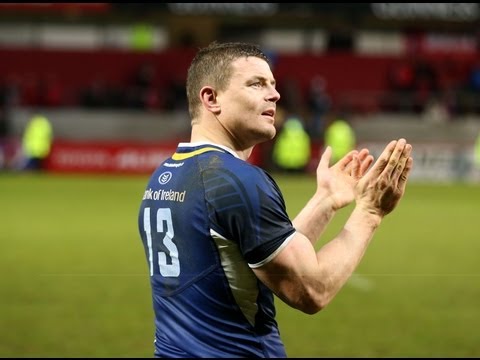 Unfortunately, the big talking point of the night though will be an unsavoury incident.
Paul O'Connell, who looked incredibly pumped up all night, connected sickeningly with the head of a prone Dave Kearney in open play.
The big lock is, like his compatriot O'Driscoll on the other side, a man of character, and it's unlikely that any Irish fan believes there was intent in his actions.
However, lack of intent doesn't mitigate for a nasty incident that saw the young wing stretchered off. One would wonder, if this was at another ground, would O'Connell have remained on the pitch?
O'Connell will surely be hoping for no phone calls this week, with only 14 or so days until Munster are due to do battle with Clermont.
Please feel free to leave your own thoughts on the incident in the comments below.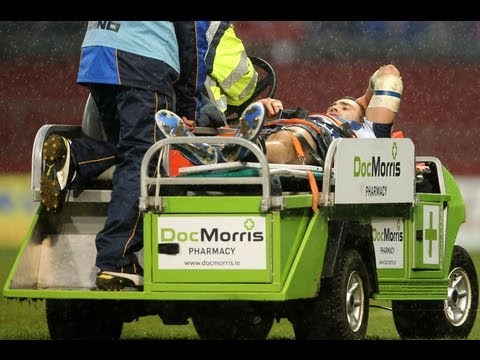 Realistically, both sides will be quite happy with the night's work. Leinster, despite being hard done by on a few occasions, and not showing much in the way of attacking flair, hung on in for a crucial win that sets them up for a home Rabo semi. Munster meanwhile will take heart from a similar performance standard to the Quins game, with another good forwards showing. They have two weeks to be ready for Clermont, with at least 4 certain starters to come in, with or without their magnificent leader.
Elsewhere, there wasn't much to write home about in the Rabo this weekend. Ulster ran out easy winners at home to Dragons, scoring an important 4 try bonus in the process and cementing their status as top of the log, while Connacht grabbed a good away victory to hop over Edinburgh. The westerners could still have a big say in this year's league, with two home games against Ulster and Glasgow, and plenty of send offs to motivate them.
The Irish press is sure to be dominated by the O'Connell saga this week, citing or not, but otherwise it's good to see some positivity after a tough few months for Irish rugby.