Oval Digest: End Game For Kidney After Horror Show In Rome
Well, that wasn't pretty was it? After such a promising start, 40 excellent minutes against Wales were washed away with a poor 6 Nations. Irish international rugby is surely at its lowest ebb now since RWC 2007, with an ageing core, the expected retirement of a once in a lifetime player, and question marks over the fitness of guaranteed starters like Ferris and O'Connell.
It was a strange day. Irish fans were plenty in the 80,000 crowd, but were left with little to shout about. Yet again (how many more times does it need to be said), Ireland failed to show any sort of gameplan. It was as if the team didn't train since the French game and decided, no matter what the opposition or weather gods threw at them, they'd kick the ball away just like against France.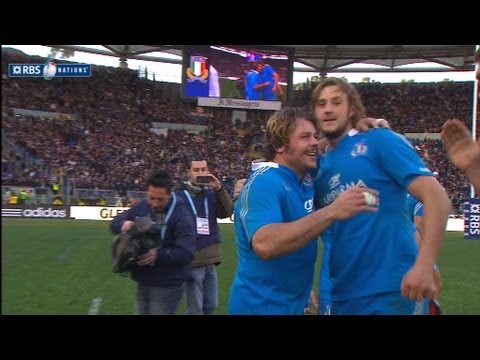 The inconsistency of this team is utterly infuriating. Yes, injuries have made it very difficult to get any sort of pattern going, and Ireland were indeed decimated again on Saturday, but the lack of basic systems, most notably at lineout time, wrecked our chances of getting out of the ancient city alive.
Injuries to Marshall (who surely shouldn't have started given his easy succumb to concussion), Earls and Fitzgerald meant Peter O'Mahony finally got to live out his fantasy of playing on the wing, while petulance from O'Driscoll in particular and Muray put Ireland down to 14 for 20 minutes.
Italy meanwhile turned up the pressure, inspired yet again by their imperious captain. Parrise is cut from a different cloth, and must surely be one of the top backrows in world rugby. Zanni impressed too, and, in reality, the Italians were fairly comfortable, batter static Irish carriers in defense time and time again.
Positively, both Madigan and Henderson showed why they should perhaps have been into the squad earlier. Madigan in particular looked excellent despite playing out of position, and his flat, wristy pass will surely be seen a lot at both provincial and 6 Nations level in the next few years.
Not even the amateur upper echelon of the IRFU could maintain this management team after that season, could they?
And so, we need to talk about Declan. The Kidney regime, which started so promisingly and fell away so speedily, amid spurious claims of 'squad building', 'form choices' and 'attacking rugby' is now surely over. Not even the amateur upper echelon of the IRFU could maintain this management team after that season, could they?
Ireland will benefit from a change of tact, and a new manager with fresh ideas. Even with the probable retirement of O'Driscoll, the core of a great young team is there, and potentially world class players like Zebo, Murray, Madigan, Gilroy, Marshall and Henderson can provide us with the next 'golden' generation.
The talk is that Kidney will learn his fate today, with rumblings of a replacement in the form of Ewan McKenzie already being lined up. This writer's choice would be Joe Schmidt, but that's unlikely and a move for the current Reds coach would be very welcome. A clean
slate is needed, and tough decisions need to be made now, before we get too deep into the world cup cycle.
Oh, and again, another shout out to the women's senior team who took home the Grand Slam after a tough slog against Italy on Sunday. Well done to Philip Doyle and the team… perhaps we're looking at our next manager under our noses?
Featured image from Irish Rugby's official Facebook page.