Oval Digest: Right Decision At The Wrong Time As Deccie Rolls The Dice
The emperor has been left stark bollock naked. Backed into a corner with likely two games left in his Irish coaching career, Declan Kidney made another of his patented 'bold moves' at the weekend, culling Ronan O'Gara from the squad to face France, and surely condemning the Munster 10 to the international wilderness.
Realistically, despite his own protestations, and a Greek chorus of media supporters claiming he was a 'contender for the Lions', O'Gara hasn't been international standard for quite a while. Since World Cup 2011 and that soulless performance against the Welsh, O'Gara hasn't been a fixture for Ireland, and two blockbuster drop goals in last year's Heineken Cup masked the Corkman's failing powers. O'Gara's displays this season have had even the most ardent fan questioning his place in the Munster team. Truth be told, O'Gara has been selfish in an Irish jersey on his last few outings, with numerous low percentage attempts at game ending plays leading to harm for the team as a whole (cameos against Scotland, Argentina and South Africa are all examples of this).
But the question remains: why now, Declan? Why stick with O'Gara as your back-up for so long, even moving one of your key players (Sexton) to the unfamiliar position of 12 in a bid shoe-horn him into the team? What's changed in the past few weeks, barring your own contract issues? For a logical man, Kidney sure does have a habit for making illogical decisions.
Of course, the Irish manager also has form in leaving under performing backs in the 22 for far too long, and then finally taking them out at a completely inopportune moment. Cast your mind back to the pre World Cup warm-ups, when the much maligned Tomas O'Leary was jettisoned after one too many poor performances, despite being the starting 9 for much of the previous 12 months.
Ironically, O'Gara was solid against Ospreys on Saturday night. Sunday's announcement will have come as a shock to the proud Munster man.
Ironically, O'Gara was actually relatively solid against Ospreys on Saturday night, though couldn't drag his team to a win in a game that saw Munster's fading Rabo hopes dim further. Sunday's announcement, which incredibly gave no mention to the probable ending of a legendary 13-year career, will have come as a shock to the proud, self-confident Munster man.
Like many previous Kidney decisions, logic doesn't come into the equation, but on the plus side, we are left with the youthful exuberance of Jackson and Madigan for the French game. Both will relish the opportunity to stake a claim for the number two spot, though surely better player management would have meant not going into a match against a rugby superpower with only 60 international minutes between your two tens?
Ireland will face a French side that hasn't won so far this 6N, and it should be interesting to see which side cracks first, as both are under severe public pressure. The return of Healy and Friday's kicking confidence boost for Jackson might just swing it in Ireland's favour, though the battle up front will be ferocious as always, meaning the fitness of Donnacha Ryan is key.
Captain Heaslip will face one of the form number 8s in the world in Louis Picamoles, and will need to front up, while a number of Irish players will be hoping to rejuvenate Lions chances, not least Best, Healy and Kearney.
This weekend is also likely to be Brian O'Driscoll's swansong in an Irish jersey. In a week when one legend was forced to call it a day, let's hope another can roll back the years to worry a soft French midfield.
Allez les verts.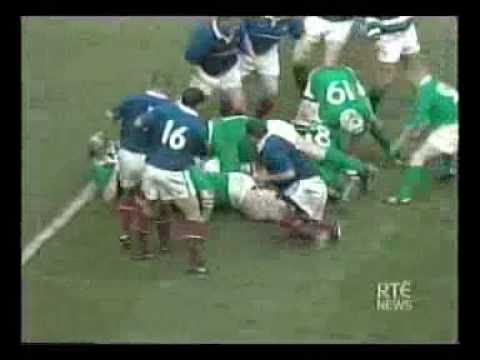 Featured image ©2011 Phil Rogers and used under a Creative Commons licence.