Oval Digest: 5 Things We Learned As Brave New Era Dawns For Irish Rugby
From European action to talk of retirements to managerial appointments, the past 4 or so days have been some of the most action-packed and enthralling in Irish rugby history. Here are 5 things we learned about the game since Saturday.
1: 'We're Schmidt, and we know we are…'
The worst kept secret was finally revealed yesterday, as Joe Schmidt was announced as the next Irish manager. The affable New Zealander will stay in the job until 2016, and will likely bring a more attack focused, sharper edge to Ireland's play. The baptism of fire of an Autumn International window including visits from Samoa, Australia and the All Blacks will be relished. The IRFU finally got their man. Leinster, meanwhile, look set to announce Aussie Matt O'Connor as Schmidt's replacement later in the week, perhaps another astute appointment.
2: Leinster really want to win the Amlin
A blue sky day in Dublin 4, and another champagne performance from the big fish in a small pond. From the intensity of Leinster's warm-up through to the fist pumping celebration from Johnny Sexton after his try, there was no lack of desire from the home team towards this undoubtedly second tier comp. Jamie Heaslip, nominated for the ERC Player of the Year, put in his best performance of the season, illustrating how effective he still is when let off the shackles. With two work horses beside him in the back row, the Naas man took up the carrying dearth left by a Sean O'Brien sized hole with aplomb. Leinster now face into a possible 5 game home run in the fight for two trophies.
3: Munster's fight was nearly enough
With their eastern neighbours prancing around in the Dublin sun, Munster were locking horns with an altogether different French beast in Montpellier. Clermont started with their usual thundering power, but another incredibly spirited Munster performance shocked them to the core. 5 more minutes and the result could have been very different, and despite being the second best team, Munster almost pulled off what would surely have been their greatest victory. Rumours abound that Ronan O'Gara is set to retire, which would represent a blow to Rob Penney, but things look a lot rosier than they did just three short weeks ago.
4: The future is bright
A forward-thinking new manager is only as good as the players he has coming through. Leinster and Munster's A teams proved on Friday evening that the production lines in both provinces show no signs of stopping. Leinster won out on the night, and will compete in the B&I Cup Final against Newcastle next month, while players like Noel Reid, Luke McGrath, Conor Gilsenan and JJ Hanrahan all impressed it seems.
5: One more year?
The great man afforded a wry smile as the R.D.S. crowd made their voices heard over any possible retirement.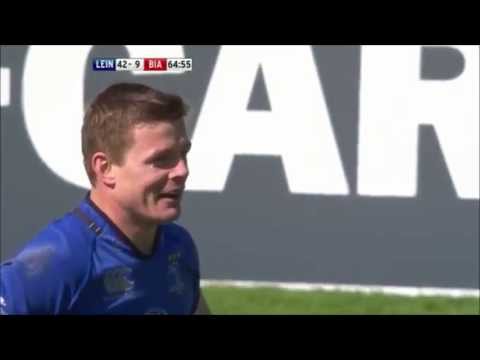 The curtain falls on the Rabo normal season this Friday, while the Lions 2013 debate will surely throw up some corkers.