Movies: Bonds, James Bonds – Timothy Dalton
Posted October 23, 2012 by Laura in
Movies
Look, we could argue all day about who is the best Bond but we all know the real answer. It rhymes with 'Ron Bonnery' and it was a Bond who gave so little a fuck, he didn't even bother with the English accent.
Which is why, in a surprising twist, this article is not to argue for the position of best Bond but rather the 2nd best Bond.
Step up, Mr Timothy Dalton.
Timothy Dalton was a wonderful mix of every kind of Bond. Starring as 007 in The Living Daylights (1987) and Licence to Kill (1989), he gave us a Bond that could be both a joyless, cold-hearted assassin, like Daniel Craig, or a one-liner spouting piece of cheese in a tuxedo, like Roger Moore.
Why? He's a classically trained, RADA & Royal Shakespeare Company theatre actor. That's why.
Timothy Dalton had been considered for the role of James Bond several times but presumably he was washing his hair each time or he simply couldn't be arsed. He was first approached in 1968 for On Her Majesty's Secret Service but Dalton told the producers that at 24, he was too young. Dalton claimed he was also reluctant to take over from Sean Connery because:
When you've seen Bond from the beginning, you don't take over from Sean Connery
See that modesty? We like that shit.
He was approached again in the late 70s but this time, he didn't care for the direction the films were going with Roger Moore.
I think Roger was fine as Bond, but the films had become too much techno-pop and had lost track of their sense of story. I mean, every film seemed to have a villain who had to rule or destroy the world. If you want to believe in the fantasy on screen, then you have to believe in the characters and use them as a stepping-stone to lead you into this fantasy world. That's a demand I made.
It takes a certain amount of balls to criticise a fellow Bond and with this quote, it's clear Dalton has so much balls he cannot cross his legs without special assistance.
Dalton was approached once more in 1986 to take the 007 role and luckily for us, the future Mr Pricklepants took the job.
Behold! Four reasons why Timothy Dalton's 007 is officially The 2nd Best Bond:
1. He looks like James Bond should
Setting aside the fact that Dalton makes it easy to believe that he could happily kill you and everyone you care about without much thought or mercy, whilst living solely on a diet of human fear and vodka martinis, spending his days blowing things up and seducing everything with a pulse… he's basically the Bond that Ian Fleming wanted all along.
We're all for casting directors taking some liberties but have a look at the description of James Bond, the literary character below:
Certainly good-looking – black hair falling down over the right eyebrow … something a bit cruel in the mouth and the eyes were cold –
Ian Fleming
Is that or is that not this man?
Answer: It is. It's like Ian Fleming crudely scribbled his face on a napkin and the Gods sculpted Dalton purely for this role. Certainly good looking? We'd crack walnuts on his arse all evening, Reader.
2. His portrayal is the closest to the actual literary character of James Bond
Unlike other Bond actors, Dalton is seemingly the only man to play the immortal spy to publicly declare himself to be a fan of the literary character. He was the first Bond to shake Fleming's original text in the face of his directors – crew often remarked he was seen re-reading and referencing the novels on set – and demand that the role he played be true to what Fleming actually described.
Dalton took a Bond, who had become something of a parody of himself (*cough* gondola hovercraft *cough*) and brought him back to square one with a genuinely fresh, focused and yet still somehow fun interpretation. Dalton's Bond was a reluctant, long-suffering, merciless assassin who was a tad tired and didn't always relish in his missions. One can assume seeing your best mate being ripped apart by sharks would put a dampner on the day job, alright.
Dalton's Bond sometimes looks like a candidate for the psychiatrist's couch – a burned-out killer who may have just enough energy left for one final mission. That was Fleming's Bond – a man who drank to diminish the poison in his system, the poison of a violent world with impossible demands… His is the suffering Bond – Steven Jay Rubin – The Complete James Bond Movie Encyclopaedia (1995)
3. Less is more
Despite Dalton being originally contracted for three films (the third of which turned out to be Goldeneye), thanks to legal disputes at the studios, we sadly only got two.
The Living Daylights pitched audiences a DANGEROUS Bond. A Bond who battled the KGB and Afghan Freedom Fighters, you know, because he was DANGEROUS.
See? DANGEROUS.
The Living Daylights was critically successful and, having made over $191 million at the box office, was, at the time of release, the fourth most successful Bond film. In it Bond says things like:
Stuff my orders! … Tell M what you want. If he fires me, I'll thank him for it.
Timothy Dalton's new Bond straight up did not give a single shit.
Licence to Kill, thanks to a less than stellar (Read: Crap) marketing campaign and competition from Indiana Jones, didn't fare as well at the box office but it still remains one of the most memorable Bond movies.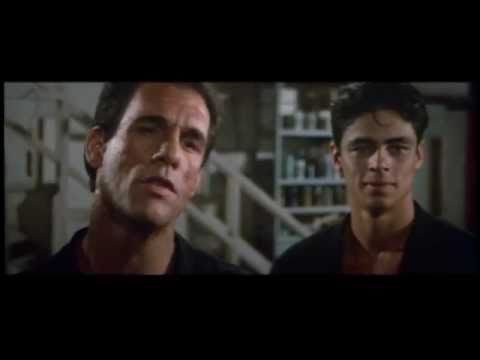 0.59 is a particular highlight.
Licence to Kill sees Bond 'go rogue' and resign from MI6 to carry out a personal vendetta against those who nearly killed his friend Felix. There are sharks, tractor based rescues, revenge kills and men being pushed into enormous shredders. It. Is. Brilliant.
4. He did his own stunts
It's hard to fault Dalton's dedication and attention to detail which was so much so, he ensured he did as many of his own stunts as humanly possible. This may not seems so impressive today given how hopelessly jaded and hard to impress we are, but he did. Dalton does not do roles by halves. This also gives us an excuse to include this photo of Dalton looking fetching in some stunt equipment.
Ha. That Dalton. He laughs in the face of danger.
Dalton, for all his brilliance, was slated by the critics for his comparative lack of humour in comparison to Moore. They [critics] didn't care for his 'serious' interpretation of the role. Well Reader, critics are full of crap. Dalton was criticised for providing the same kind of Bond that Daniel Craig, a man who seems to experience actual pain when he smiles, is praised for right now. Dalton however provided this Bond back in the 80s, before the Bourne films influenced action films, before the culture of reboots aiming to make franchises go 'darker' and all under the umbrella of a song provided by A-fucking-Ha.
This Bond was ahead of his time.
Timothy Dalton, we salute you.