13 Sitcom Relationships That Won't Go The Distance
Posted May 20, 2013 by Justin McDaid in
Ramp Lists
…and they all lived happily ever after. A sitcom comes to the end of its run, or two principles get it on after an aeon of comedic frisson, and everyone goes off happy in the knowledge that it all worked out in the end. Did it though? Did it? Consider this your spoiler alert as we count down thirteen sitcom romances that are destined for shitsville…population, like, twenty-six or so.
13. Jess & Nick – New Girl
Who will crack first – will Nick get fed up with the doe-eyed ditziness of toddler-like Jess, or will she suss out that he's about to explode in a ball of angry alcoholism and failure that has epitomized his life up to and including this point? He's a fuck-up. She's a manic pixie dream girl. Next.
12. Ray & Deborah – Everybody Loves Raymond
Ray's an asshole.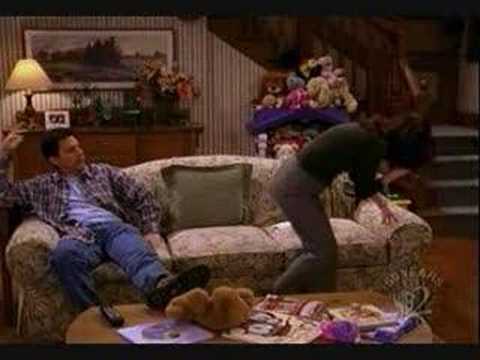 11. Liz & Criss – 30 Rock
In a lot of ways, Liz Lemon is the perfect woman – Star Wars obsessed, good craic, bit of a looker, bit of a dirtbird – but we fear that these points could be her downfall. Remember in Seinfeld when Jerry was going out with Janeane Garofalo? They were too similar – it could never work. Jerry knew this. Anyway, Liz is too old for Criss, and she's the dude in the relationship. Bring back Dennis we say, now there's a guy who knew how to keep Liz Lemon on her toes.
10. Tony & Deborah – Men Behaving Badly
'AH-DIT-EN-EH-DUH-AH-DIT-EN-EH-DUH-DEBORAH/ AH-DIT-EN-EH-DUH-AH-DIT-EN-EH-DUH-DEBORAH' It's right up there with Layla, lads. Tony's efforts to bed upstairs neighbour Deborah over six series of Men Behaving Badly were nothing short of heroic. His courting was a masterclass in perseverance – Tony chipped away relentlessly until Deb crumbled and just said 'Fuck it.' Tony and Deb aren't cut out for marriage, though, not like Gary and Dorothy. Once the unattainable was attained, it was finished. Tony had an affair with Amanda Holden, and Deb got back together with Jimmy from Quadrophenia.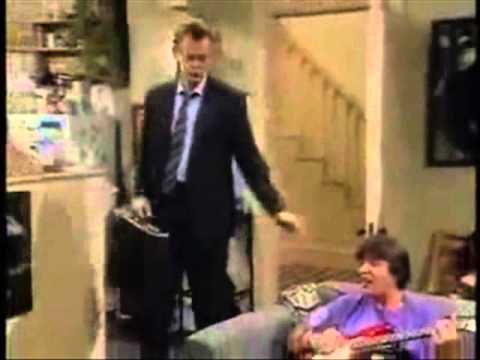 9. Mark & Dobby – Peepshow
"Good old Dobby – the anxious self-hating man's crumpet"
Mark and Dobby are a good, nerdy match on the surface it must be said, but this must also be said – she's too good for him. He'll be found out soon enough. Chin up, Corrigan.
8. Leslie & Ben – Parks & Recreation
We want it to work. Really we do. But there's always been a niggling feeling that something here just doesn't feel right. Government will always come first for Leslie. Even JJ's waffles seem to have a priority place in her heart. No, Leslie needs to cut Ben loose so he can shack up with that reporter woman (look, it's either her or Joan Callamezzo), leaving Leslie free to devote her time to her one and only true love – Pawnee.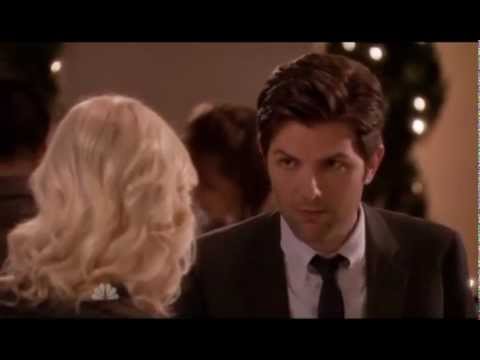 7. Niles & Daphne – Frasier
Another one we're rooting for, but again, it won't last. Let's not forget, Daphne is a dizzy Manc at heart – how long is it going to be before her true self resurfaces and she realises she's committed to a lifetime with a high-maintenance neurotic. That shit don't diminish with time.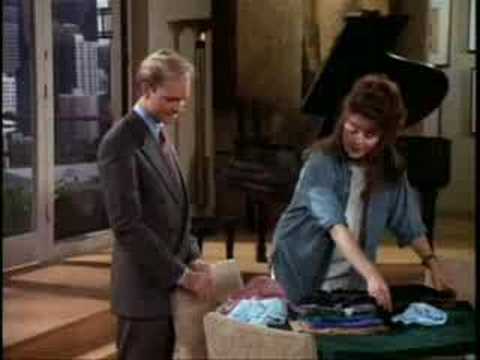 6. Andy & April – Parks & Recreation
Once upon a time – Season 2 to be precise – this seemed like it could have worked. Then, somewhere along the way the writers decided to make Andy the dumbest character on the small screen. Tropic Thunder taught us that you never go full retard, and the Parks & Rec writers took notice – Andy still displays the odd smidgen of unknowing insight, but his and April's relationship is now more that of carer/savant (Mouserat>Neutral Milk Hotel). Step off, Andy; let that one back on the market.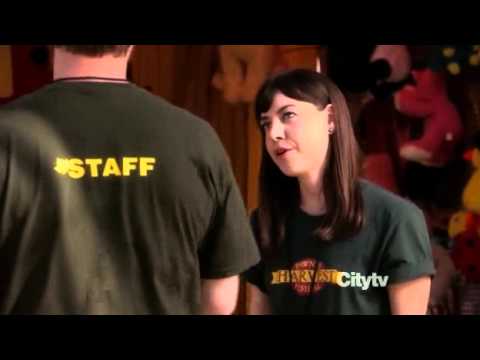 5. Doug & Carrie – King Of Queens
You didn't just save my life, brown eyes. You made my life worth saving
Doug's finest hour was the above quote – when he spoke those words to Carrie it was the moment she knew she loved him. What she didn't know was that Doug stole the line from McCormick & JoJo, an Eric Estrada buddy cop movie featuring a chimp. As our hero Doug surmised after one typically scorpy exchange with wife Carrie, 'I'm fat, you're mean, who cares!' And boy is she mean… meaner than a bag of hot stoats. Doug has his despicable streak, but his is largely fraught with hilarity and thus forgiveable let's be fair, if you were married to Carrie you would develop at least some form of despicability. Carrie's father Arthur lives with the pair, and as the saying goes – if you want to see what your wagon wife will turn out like, look at Arthur.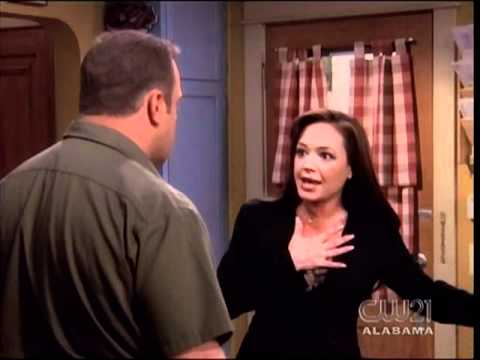 4. Gary & Phoebe – Goodnight Sweetheart
Time travelling two-timer Gary Sparrow/Rodney Trotter has been having his rationed cake and eating it. Stringing along two birds might not seem like an original premise for a show, but what if one of those birds is at the other end of a time portal and living in WW2 London? His bit on the side is none other than our Assumpta from Ballykissangel, a barmaid who falls in love with Gaz (she's later replaced by a lesser Assumpta lookalike). Gary's pants are on fire from the get-go; he tells Assumpta/Phoebe that he's a spy, but she ends up marrying him and Gary's attempt to juggle two over-complicated lives continues (Hah! The only person to have ever successfully pulled off a time travel romance is Doc Brown. No way Rodney Trotter is going to manage it, two GCSE's or not) Gary eventually gets trapped in the past – now, we aren't going to go into the science of time travel but the way we see it, when Assumpta/Phoebe is 40, Gary will be 156 years old. When present day Assumpta/Phoebe is 96, Gary will be his own grandson.
3. Chandler & Monica – Friends
It's quite simple. Monica should have ended up with Richard, and Chandler with Cathy. Instead they both settled for second best, and why? Because they were both hard up for a shag in London. Okay, that's not fair, but we speak the truth. What's left for these two?  Monica sapped every ounce of comedic power from Chandler once that relationship became a 'thing', and then became a parody of herself. There was always a darkness in Chandler, and as Phoebe's short-lived yet legendary boyfriend Roger ('I hate that guy!') called it – 'I wouldn't wanna be there when the laughter stops.'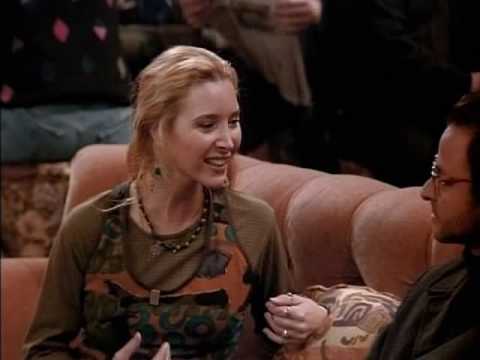 2. Ross & Rachel – Friends
Rachel's mother did say, after Ross' dalliance with the girl from the copy place, 'Once a cheater, always a cheater' (We will forever maintain that Ross did no wrong. All he wanted was frozen yoghurt) Did Rachel listen? Nope. She married crazy old Ross 'MY SANDWICH?' Geller after a bizarre on/off relationship that spanned half a lifetime. Why should the running gag of serial divorcee Ross end just because Friends has? That marriage was doomed the minute Rachel left the Gellers' house with Chip on prom night way back when. Ross never fully recovered from that moustachioed humiliation.

1. Ted & The Mother – How I Met Your Mother
It was meant to be Robin. Fuck that. Eight seasons for that? Fuck that. Ted Moseby has been quite the desperado since HIMYM started, going so far as to declare his love for Robin on their first date. He has followed that up with a multitude of ridiculously romantic gestures, right up until the point of Robin and Barney's wedding…then we meet The Mother. So, we know Ted & The Mother stick it out until the kids are at least, like, mid-teens. It's time to get European and unleash the affairs – Ted & Robin; Barney & The Mother; Lily & Ralph Macchio; Lily & Robin. That last one's been bubbling for a while now.