Ramp Randoms: Eurovision 2013 – Meet The Contestants
It is that time of year again. It starts around the end of March and takes over everyone's lives until the end of May. Yep, that's right. It's Eurovision time!
Seriously, no one has stopped talking about it for the past few weeks; it is the hot topic of this country. Since we picked Ryan Dolan and his trendy sunglasses to represent us, the Eurovision hype has just been non-stop. Like, the topless photo he posted of himself the other day got retweeted 6 times; the numbers speak for themselves.
Poor Ryan must really be feeling the pressure. After all, the nation cares very deeply about the competition which sits on the throne as king of voting scandals. When Jedward failed to make us proud to be Irish twice in a row in front of a confused Europe, we beheaded the twins and stuck their bulbs on poles outside RTE as a warning to anyone else who dared sing for us. And now that pressure lies on Mr. Dolan's shoulders; no wonder he looks so worried in his topless photo, and not just because he might have belatedly realised the baby lotion on his hands could be damaging his phone.
But what about the other contestants? We should probably get to know them; even though Ryan is clearly an incredibly talented person, the likelihood of us winning is slim to none due to our lack of bordering countries to give us a neighbourly vote. Damn you, beautiful coastline! Damn you to hell!
Let's start with the ones who are nice to look at because, if we are anything, we are a society obsessed with vanity. And after figures from beautifulpeople.com revealed that the Irish are the ugliest nation in Europe, it seems like we must search elsewhere for some eye candy. But where to look? Well, Azerbaijan of course!
Farid Mammadov is the dreamboat of the nation of Azerbaijan, if your idea of a dreamboat is a small, dark, and handsome guy rocking the deer-in-the-headlights look. It seems that Farid can't get through any performance without looking as though he is about to throw up all over one of the ballerinas dancing in the shadows around him. Kinda makes you want to go give him a pat on the face and remind him that after Azerbaijan's controversial win last year, the last thing they want him to do is win again. In fact the people cheering for him in the audience are actually quietly chanting 'Don't win! Don't win! We can't afford it!'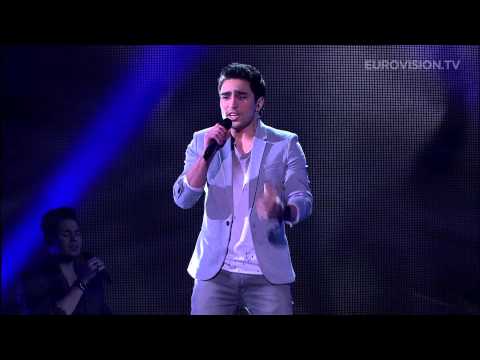 Belgium is sending baby-faced Roberto Bellarosa, and it's hard not to fall a little bit in love with him, given the incredibly sincere facial expressions he produces whist singing the ridiculous lyrics of his song 'Love Kills'. Maybe he's just concerned for the two dancers that keep randomly appearing around him and falling over at awkward moments. But he's cute, and in such a cutthroat competition of dangerously large flag poles and sharp diamantes, you've got to flaunt what you've got.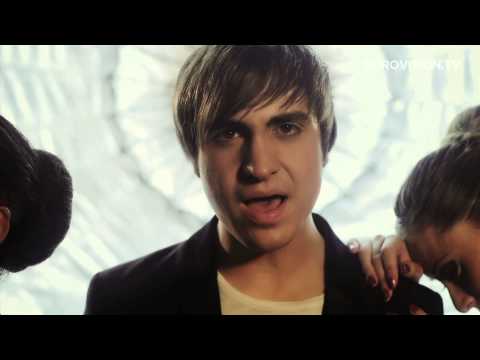 For the men, there are plenty of skimpy-clothed, sequined-out women to choose to give your vote to. Or why not have three? Serbia are sending trio Moje 3 to represent them, with a song that includes lines like 'When he cheats on you/then your heart will be fish food.' For their performance, these beautiful women dress as the devil, a girl in a white dress, and a girl in a gold dress. Clearly the one with the devil horns picked the short straw in having the only identifiable costume. We need to all cross our fingers that Moje 3 get into the final because their costume designer and choreographer clearly did not coordinate their strategies  Therefore, the performance includes super high heels plus lots of walking around each other in circles, and nothing beats someone falling over on live TV, unless it is three people falling over on live TV.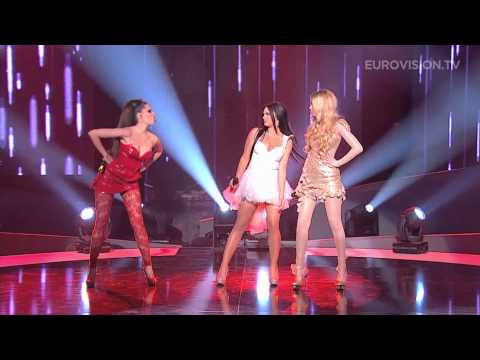 Our favourite entry so far however comes from Malta, the little country that always delivers Eurovision joy. This year they've got a little man named Gianluca Bezzina singing for them, and boy, is he happy about it. This guy physically cannot smile any more in the music video for the song 'Tomorrow'. His cheeks are literally strained for the entire three minutes of this uplifting, bounce your head and walk your dog tune. He is just a bundle of ukulele joy in a woolly jumper and rolled up chinos. He's Jamie Cullum without the piano, he's Gino D'Acampo without the food. He is a joy, as are his overacting backing singers and bearded guitarist, who are all equally happy about life.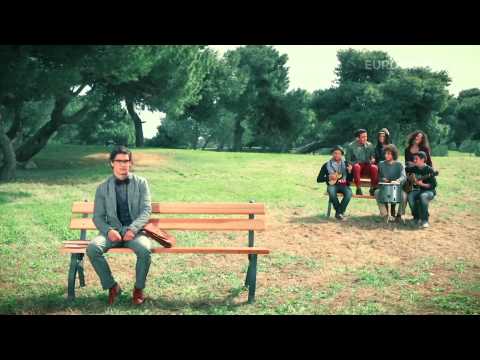 Some other favourites include Robin Stjernberg of Sweden who has been through a rollercoaster of emotions, including only barely making it through to the semi-finals, having to change his choreography last minute due to Eurovision rules that state that only six people are allowed on stage, and his shocking weight loss over just a few short weeks. The song might be awful but come on, he deserves a break!
Or Greece's entry 'Alcohol is free', which fills the space of token gimmick song. Watching this strange mix of men wearing kilts (for some unknown reason), dancing around with their instruments telling you over and over about the low price of some alcoholic beverage makes you kind of think maybe it would be funny if they did win. But after listening to the song more than once you start to hope that anyone else in the whole of Europe will win. Even Ryan Dolan.