Top 11 Hilariously Malicious Football Tackles
Posted April 24, 2013 by Rú Hickson in
Humour
When you see Sergio Aguero jump and commit a two-footed tackle into the back of David Luiz that's amore, your immediate reaction is that it's somewhat of a disgrace. Why on Earth would anyone ever try to do that to another professional? 'He's not that kind of player' croon managers, pundits and fans alike. Joey Barton on Aguero last year? Also a disgrace. Martin Taylor on Eduardo da Silva? Unintentional and unfortunate, but a disgrace. Any career-devastating injury just isn't funny.
Then there's the kind of challenge that goes so far off the disgrace scale that its measurement may as well be on Alpha Centauri. It comes full circle and lands somewhere in the vicinity of outright hilarity. Allow us to furnish you with a few examples.
11 Luis Suarez on Otman Bakkal
Let's get the elephant out of the room, shall we? In his Ajax days, Luis Suarez still had a habit of losing the run of himself from time to time. In one such heated exchange, he ended up biting PSV's Otman Bakkal on the chest. The infringement was so off-kilter, no one was quite sure how to react. Suarez got a lengthy ban for his troubles and never bit anyone again.
10. Zinedine Zidane on Marco Materazzi
The only reason this is so low is because you've seen it before. Even Family Guy has parodied it. Zidane's perfectly-fashioned headbutt on Materazzi's sternum tarnished the last appearance of one of the world's greatest footballers, but it's impossible not to think it's funny considering just how much of a jerk Materazzi is.
9. Matt Messias on Robbie Savage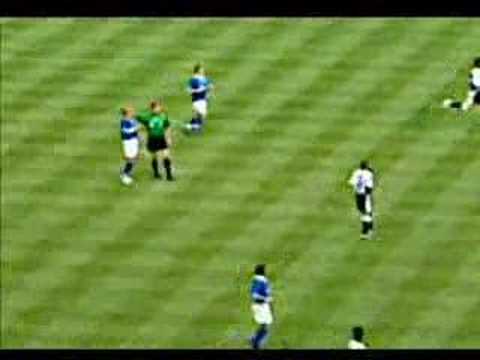 There are two types of people in the world: those who dislike Robbie Savage, and those who really dislike Robbie Savage. The Leicester City journeyman realised that referee Matt Messias fell into the latter camp during a game when the official swung out an arm and clobbered the long-haired midfielder straight in the craw. Admittedly, Messias didn't see Savage approaching, due to the lack of eyes in the back of his head, but everyone enjoyed it, because there are two types of people in the world…
8. Bryan Carrasco on Bryan Carrasco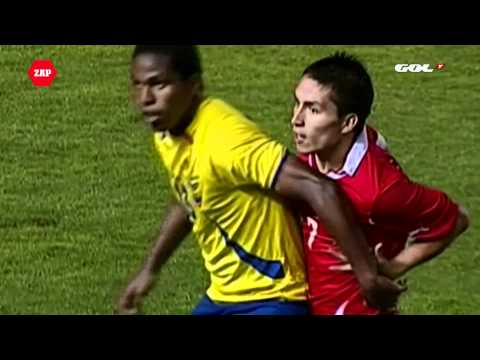 South Americans get a bad rep for simulation, but Chile's Bryan Carrasco possibly takes the biscuit when it comes to silliness. During an U20 match against Ecuador, Carrasco grabbed his marker's hand and smacked himself in the face with it, calling foul play.
7. Peter Murphy on Bert Trautmann
There's nothing funny about Birmingham City's Peter Murphy dangerously challenging Manchester City's legendary keeper Bert Trautmann, but there's definitely a ridiculous quality to it – that being that it left Trautmann with a broken neck he didn't notice he had and played out the last 17 minutes of the game, making several great saves along the way too, even with a noticeably bent posture. Man City won 3-1. Goalkeepers are a weird bunch, they say.
6. Eden Hazard on A. Ballboy
While neither party came out of this incident looking well, it's safe to say the vast majority of football fans felt sympathy for Hazard. Having caught the ball after running out of play, the Swansea City ballboy did not release the ball to the Chelsea forward and, well…
5. Paul Scholes on Anyone
It would be very easy to fill an entire list of bad tackles with Paul Scholes efforts. It's bizarre that a player so experienced and complete can lack such a fundamental ability as tackling fairly. He's the Louvre without the Mona Lisa; the solar system without Saturn; Disneyworld without the toilets. Anyway, enjoy Scholes performing a scissor kick that anyone from Mortal Kombat would be proud of.
4. Scott Parker on Joe Cole
It's fitting that such a challenge as British as Scott Parker's demolition of Joe Cole happened in the land of Isaac Newton, as you're unlikely to find an image as demonstrative of F = ma in sport in your life. Joe Cole was alright after, if a little inverted.
3. Bobby Zamora on Jordi Gomez
It's uncertain whether this was a good or bad attempt at killing someone on a football field. Bobby Zamora, large sometime England international, decided that the perennially inoffensive Spanish playmaker for Wigan, Jordi Gormez, was in need of an immediate decapitation. Zamora got his marching orders for trying to apply the headsman's boot. Even more laughable/reprehensible is that he claimed Gomez was making too much of the challenge. The above challenge. With studs. To the head. Ow.
2. Didier Zokora on Emre Belozoglu
Likely to have even the non-testicle-owning readers among you squirming, Didier Zokora's no holds barred assault on Emre's nether regions seems a bit extreme out of context. However, following a fierce bout of racial abuse from Emre to the former Tottenham midfielder, Zokora took matters into his own feet and delivered a sweet blow of Nike justice right to the gonads – a kick so late it could be mistaken for a Dublin bus. The referee was so sympathetic to Zokora's cause, he issued Zokora a yellow card (so that he couldn't face extra punishment) and Emre an ice pack.
1. Francesco Totti on Mario Balotelli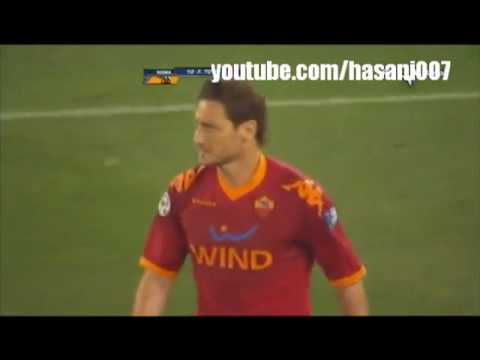 Picture the scene: You're Francesco Totti of Roma, one of the finest Italian footballers of your generation. You're passionate, creative, and have passing and goalscoring skill coming out of your nostrils. It's injury time in the 2010 Italian Cup final and you're 1-0 down to bitter rivals Inter Milan. The nerazzurri have possession and this upstart, this freak, this egomaniacal young starlet, Mario Balotelli, is in front of you with the ball. Time is ticking away, and Super Mario is purposely dithering. Showboating. Running down the clock. In front of you, YOU, his not-undersized posterior is sticking out, taunting you with its every wobble. Time, the cup and its glory are draining away. There's only one thing for it: a right big kick up the arse.
Everything about this is beautiful. The uncanny Ted on Len Brennan similarity. The reaction from Daniele De Rossi. That it was in a cup final watched by millions. That he did it to a guy like Balotelli who's so far up his own arse, it could well be construed as a kick to the face. That you can pinpoint the precise moment this evil thought flashes through his eyes. That it was so mind-blowingly WTF the Inter players didn't even bother with the obligatory team unity aggro that usually precipitates this kind of thing, because it was so sublimely executed. As far as kicks up the jacksy go, there's not one better.