Do Over: Grim Fandango
Who would have thought that as video games became a bigger and bigger deal this past generation, with budgets swelling and profits reaching new all-time highs, that adventure games would make a proper comeback?
There's this terrible misconception that the point and click genre died a horrible death as the new millennium graced us. Truthfully though, they never went away; they just sat quietly in the corner of the room doing their own thing, while the attention whores of the industry attracted the gazes of the masses with promises of new perks and killstreak rewards with every rank up. Much of that remains the case but with the phenomenal (and hugely deserved) success of Telltale Games' The Walking Dead, one has to wonder where adventure games can go from here.
Certainly The Walking Dead is a new type of adventure game: a hybrid of David Cage's experimental works like Heavy Rain and Fahrenheit, and the more traditional classics. With the future of the genre blown so tantalisingly wide open, what better time than now to look back at some of its highlights? The '90s, the so called 'golden age of adventure games', a time when LucasArts actually made things that didn't involve the Star Wars licence (I know, hard to believe), saw the release of such fan favourites as Monkey Island, Sam & Max, and, what this writer considers the pinnacle of adventure gaming, Grim Fandango.
It's 1998. Print magazines are still a thing. The internet is a precious commodity and so laughably slow to use that looking back, it's a miracle we were ever able to find any good use for it at all. The combination of the two led to the creation of the godlike demo disc; your monthly source for video previews of upcoming games but most importantly, playable demos. And this is where my little eight year old self-stumbled upon what would ultimately become his favourite game of all time.
You play as Manuel Calavera, an agent of the Department of Death in the Underworld. Manny's job is to guide recently deceased individuals throughout this treacherous world to the land of eternal rest by offering them a variety of travel packages; he's essentially a holiday broker for the dead. And so, some of the game's primary themes of bureaucracy, corruption, and the consequences of actions over a person's lifespan are established in a wonderful cinematic opening.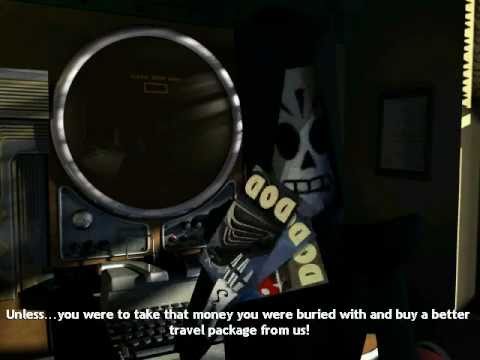 There's forty odd minutes of these impressively rendered cut scenes sprinkled nicely throughout and while they certainly show their age now, the art direction of the game allow them to remain eye candy. The same can be said for the in game graphics engine; there's jaggies and low-res textures aplenty, but the unique artistic flavour more than makes up for these technical shortcomings.
Death being a central theme, the aesthetic is very much Gothic but not solely so; there's healthy doses of art deco and film noir thrown in there too for a good measure. The sheer creativity of the locales prevent too the aged aspects of the visuals from being distracting; a mining rig on the literal edge of the world, a race track for giant elephant-sized cats… the list goes on. The visuals are only one third of what helps the game establish such a definitive tone and atmosphere. Peter McConnell's wonderful original soundtrack is another piece of this puzzle, sliding perfectly into place, the downbeat bluesy jazz sounds mixing so well with up-tempo Mexican folk tunes.
The majority of time in adventure games is spent interacting with characters; listening to what they have to say, parsing their dialogue for hints to help with often ludicrously obscure puzzles, and asking the right questions. As such, perhaps more so than any other genre, it's the quality of the writing that carries adventure games. This is where Grim Fandango truly shines and might just stand head and shoulders above practically every other game in existence.
Grim Fandango exhibited a level of wit, poignancy, and depth one would not have expected to come across in a video game.
Tim Schafer is the main visionary behind Grim, and also the man responsible for its script, and Grim exhibited a level of wit, poignancy, and depth one would not have expected to come across in a video game (it's exceptional even now). Despite the generally fantastical nature of the game, it adopts a primarily serious tone, in stark contrast to the many hilarity-focused narratives almost every other point and click went for at the time, certainly every LucasArts venture at the very least; this was definitely new ground for them. The writing's ability to simultaneously appeal to the heart and the funny bone is a testament to Schafer's incredible talents; even through the humour, tinges of the tragic can be found.
The fact that the biggest issue with playing Grim in 2013 (apart from the nightmarish process of getting it to run on Windows 7), is the exact same issue which plagued it on its original release says a lot about how well it's aged. Those horrible tank controls are still a pain. This wasn't just a new tonal direction for LucasArts, it was their first three dimensional adventure game. Unfortunately they didn't quite nail the controls first time; they are frequently awkward and unwieldy to deal with. Nor did they fix this problem in the second (and final) game which used the GrimE engine, Escape From Monkey Island (although that game has far bigger problems than simply an irritating control scheme). But really, Grim Fandango is as enjoyable now as it was then, if purely for the reason that good stories are timeless. And truly, this is a tale of near unmatchable quality in the medium.
As a child, I always loved stories but it wasn't until I experienced Grim Fandango that I understood the real extent of their power: to move and make us feel deeply for characters and people that don't even exist, to make us think about the important things in life. It's somewhat ironic that a video game taught me such a valuable lesson, when so many question video games' place and validity as an art form. By its mere existence, Grim Fandango answers this question once and for all and in doing so, affirms its relevance to modern gaming.