Movie Review: Silence
Posted July 13, 2012 by Will O'Keeffe in
2012
In Silence, Eoghan comes home to Ireland to make recordings in locations devoid of man-made sound. This premise suggests an atypical film involving perhaps a contemporary treatment of silence, noise and modern life. Silence achieves far more than this. Set mostly in the west of Ireland, with only fleeting mention of Dublin and brief shots of our road networks, the images and conversations of the film draw out unexpected themes of memory, history and loss and presents them to us to consider in the context of our progress and our own lives.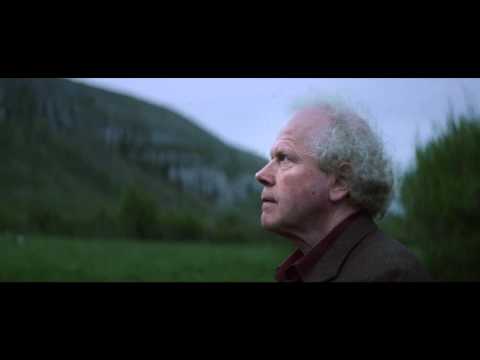 The film presents an Ireland that is lost to time. Video reels, ruins of what were once family homes and memorials lined with pictures of people frame Eoghan's journey. The point is not to be nostalgic or sugar-coat, but to look at the fading memories, in this case of folklore and tradition, whether it is to have a song after dinner or to look to the substance and meaning of an Irish word rather than to its English translation. In a film about silence, words are chosen carefully.
Eoghan does find locations devoid of sound but the past echoes everywhere.  The water lapping at the coast in an otherwise silent surround carries the actions of some unknown person or persons at an earlier time. The wind channeled through the joins in a slab wall, built generations before, means the sound captured is not without the influence of a human hand. The detail though, the full story of those that went before us, is gone.
Stories and insights are offered in real-improvised form, akin to a documentary, but filmed in a style not a mile from the likes of Terrence Malick. The film constructs its own ecology and within it we learn of an untold social history that has and is withering away. Yes, this history has been drowned out by modern noise, but we must also consider that these silent shells of former lives offer their own questions. Are there lessons we re-learn as individuals and collectives in a cycle of mistakes and successes?
Our history books tell of a nation now nearly 100 years old that in its initial decades was insular and protectionist and took a consensual unchallenged view of privilege and social inequality. 2012 and our Ministers play with the ideas of choice and necessity in defending emigration figures, and our vulnerabilities have become global rather than local. We seem a people adrift, with our sovereignty and our ability to govern at question, and the unsavoury aftertaste of the untold ramifications of the church now replaced with a social malaise not so easily laid at the door of any one institution. Eoghan walks around his home village where all but one of the generation he calls 'the old ones' have passed on. Is there a wealth of guidance now lost to us? Would the shallowness of our progress be leavened by adjusting or adopting based on what has gone before? So too and perhaps more perplexedly we must contend with the fact that our own voice may someday also be lost in the din of descendants, and what then becomes of our legacy?
The events of  Silence seem to relate to small stories. Its application, however, is more widespread and appropriately the setting is a huge canvas portraying Ireland in unadulterated green, soft rain and otherworldly rock formations. The West, the islands and its people are put on splendid display. Eoghan acts as our lense and our headset to beautiful settings. At times things veer close to a display of moving art, transfixing and more at home in a gallery space. Our guide stands silently pondering, a tumbling slope of field or a lake stretched out before him. Transformers this ain't. Irrespective of interpretation, it is invigorating to see Ireland captured so vividly.
We have a slapdash account through film of who we are as a nation. What's on offer here is not a trifling affair. Silence could be re-watched to take on the full weight of what little is said, different themes could be extracted and equally its consumption of screen time with visuals and mould-less structure might be an existential trip too far. Nevertheless Silence offers a pointed treatment of the story of Ireland for an audience willing to engage. The quality of work here whets the appetite for a companion piece set in a bustling Irish city telling of the flip side of the coin that has left our identity behind.
Silence isn't on general release until the 27th of July, but plays at the Galway Film Fleadh tomorrow, Saturday 14th, 5pm in the Town Hall Theatre.