Movie Review: Elysium
Posted August 27, 2013 by Will O'Keeffe in
2013
Overview
Year
:
2013
Genre
:
Action, Sci-fi
Director
:
Neil Blomkamp
Stars
:
Jodie Foster, Matt Damon, Sharlto Copley
Rating
:
15A
:
Pros:
A solid piece of block-buster fare with a polished look.
Cons:
Predictable and formulaic. A disappointment coming from a place of such promise.

Inequality is so entrenched that the wealthy now live on a man-made space station in Earths orbit. Matt Damon takes issue.
Every review of Elysium will make reference to 'District 9′. Neil Blomkamp caught the world off guard when he gave us a smart, engaging take on an alien invasion, giving us a cumbersome hero in the shape of Sharlto Copley and put real drama in an action movie. Convention was defied, the stakes were real, and high. It's a pity, but it must be said, that 'Elysium', the much-anticipated follow up to 'District 9′, repels from this originality, and interesting film making. Watching the movie feels like an unending waiting game – when will the movie take hold and deliver the 1 -2 punch that ups the stakes and shows that Blomkamp is taking his next swipe at movie making in his stride?
The movie starts out blandly, putting an everyman (Matt Damon) in a dystopian future, tying him inexplicably to a bigger purpose, and putting the necessary love interest, and cute kid, in place. Surely now we get the rug-pulling moment in which there is a smart play on how our futures might unfurl? Not so much. We ascend to a Beverly Hills space station in the sky. This zenith of living is as unremarkable as it sounds and like so much else in the movie, looks good, but there is little of substance to ponder. Jodie Foster is the sole body of interest aboard the station, machinating as a Thatcher-like head of security. Exposition expands on our villain's end-game and we get a deranged henchman (Copley). So far, so formula. And the waiting ensues. Events progress to put everyone in crisis, and it seems on a trajectory to confront and clash with each other. Damon and Foster ultimately share the screen for a scant few seconds and the pay-off for both characters is dissatisfying (Foster) and pointlessly clichéd (Damon). If we want a movie that goes high-concept and resolves its story with no more than a gruff scrap we can watch, oh yeah, every other lazy piece of film making released this past decade.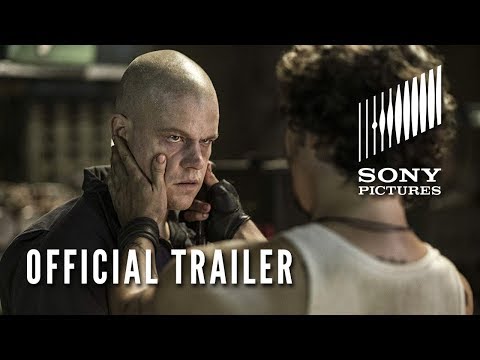 We have a bigger budget and bigger names, but less risk. It seems Blomkamp was handed a blank cheque but handcuffed to Hollywood formula. The film looks sumptuous, but sumptuous in the way you invest lots of money but little thought in your Christmas shopping. Blomkamp creates some excellently epic shots. A slo-mo style used throughout, in shots such as a drone being smashed to smithereens, give the movie a great elegance – but while pleasing to look at, they only serve to give you time to deconstruct the last few minutes of story and realise the complete lack of logic at play. The quiet unassuming way that 'District 9′ appeared in our lives is now usurped by coy marketing ploys and red carpet premieres. Naturally having headline talent on screen is worth promoting – but it seems we've all been pitched some magic beans. Stories of a bleak future are not new, and god help us that movies seem to make eerily apt predictions, but this movie wants to hand-walk us to a sun-blushed resolution with no consequence, ultimately belying its talent and potential.