Game Review: Guacamelee!
Overview
Genre
:
Action, Platform
Platform
:
Playstation 3, Playstation Vita
Year
:
2013
PEGI Rating
:
12
:
Pros:
Sunny attitude, robust combat, some fantastic puzzle-platforming. And it's called Guacamelee!
Cons:
No great surprises. Music can get a bit repetitive.

Guacamelee! That's some good punnage. Guacamelee! is the third game from Drinkbox Studios, and Colm finds it only delightful.
Look, let's get this out of the way: that title. A game that announces itself with such a deeply satisfying pun has already justified its existence, sight unseen. A pun this good is the finest brandy in the most elegant decanter. Pause for a minute, and let's savour it together. Yessss.
Guacamelee! (unf) is the third game from Toronto-based Drinkbox Studios. It's a colourful, Mexican-flavoured 2D side-scroller that fuses Metroid-style ability unlocks with robust beat-em-up gameplay and some deliciously tricky platforming. It makes no bones about its influences — Super Metroid's Chozo statues are cheekily appropriated, and background references to the gaming canon abound — and while no one element is wildly original, it's all tied together into a solid, elegant package with a distinctive style and spirit. It helps that it's so very good-natured, so obviously delighted to be what it is. It's a game that loves games, and it'll remind you why you do too.
The game's environments are mostly straightforward and it doesn't demand much backtracking to complete, though exploration is handsomely rewarded with a wide array of secrets and side-rooms. It's in these optional areas that the game's greatest strength is first revealed — namely, some devilishly difficult platforming that's reminiscent of the likes of N and Super Meat Boy. There's a puzzle element in many cases, in the sense that you'll need to figure out the right sequence of moves to execute in order to get from A to B (your unlockable combat moves double as mobility boosts, such as the uppercut that can be deployed in mid-air to gain some extra height). These sequences, which are intensely satisfying to complete, range in difficulty from piece-o-cake to fist-gnawingly tough, with the latter lurking in those optional side-areas.
The combat itself is good solid fun, and gets steadily moreso as the game goes on and more variables are introduced. Single enemies don't take a huge amount of punishment, and fights are less about one-on-one beatdowns and more about crowd control and situational awareness: knowing who the most immediate threats are, which special moves to deploy and when, how to time your dodges and so on. Because of this it never becomes a button-mashing drudge, and there's real tension in the more intense fights. An optional wave-attack descent into an abandoned mine delivers the toughest challenge, though it's disappointingly short — a few extra levels would have been nice, or ideally a random-wave survival mode. Still, what's there is excellent fun, and there's always scope to go back and improve your combos.
The story and setting are basic, but less so in a horrible-videogame-bullshit and more a Saturday-morning-cartoon kind of way. The villains are designated so, and have the back-stories to prove it, but none of them are particularly malevolent in practice, and the innocent NPCs are more put-out than miserable about the woes that befall them. It all ties into the good-naturedness mentioned earlier — it's pantomime stuff, with everyone playing their part, and the player is encouraged to joyously join in rather than grit their teeth and fight the good fight. The game is relentless in its devotion to fun and, while rarely laugh-out-loud funny, it's hard not to play with a smile on your face.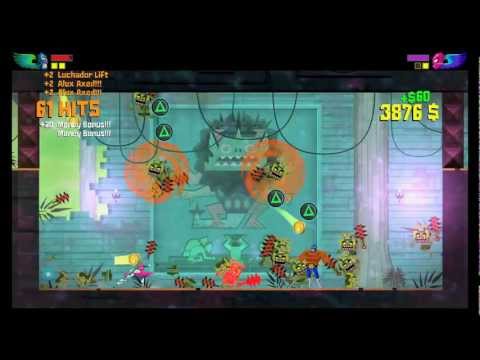 All in all, Guacamelee! is a brilliantly fun game with a fantastic attitude. It won't drop any jaws in the gaming community, but its devotion to simply giving the player a wild, challenging time is refreshing and deserves to be rewarded. And that pun, that pun: what a beautiful thing. Play this, and be glad.