Album Review: Kanye West – Yeezus
Posted June 25, 2013 by Paul Fennessy in
Hip-Hop
Overview
Genre
:
Hip-Hop
Artist
:
Kanye West
Label
:
Def Jam
Year
:
2013
:
Pros:
It's distinctive-sounding, its lyrics are often thought-provoking, it's an ambitious departure from his staple sound.
Cons:
It contains one or two weak tracks, the lyrics are occasionally needlessly crude.

Kanye follows up the exceptional My Beautiful Dark Twisted Fantasy and the uneven Watch the Throne with a much more primitive work that's somewhat reminiscent of his sound circa 808s.
It is no accident that, for the promo of his new album Yeezus, Kanye West parodied/paid homage to an infamous scene from American Psycho – the movie based on Bret Easton Ellis' 1991 novel. The comparisons between the two are numerous – like West himself, American Psycho was condemned and praised in equal measure at the time of its release, owing to its brilliant but provocative undercurrent. And more importantly, as is the case with West, it was sometimes difficult to tell if Ellis was being funny or serious with his writing, with satire and more base preoccupations merging to form a work that, for all its virtues, occasionally seemed ethically questionable.
And just as AP emerged at a time when there was much talk of the novel dying, Yeezus arrives when people are starting to seriously question the viability of making albums, in an age where anything that isn't instant and relentlessly entertaining invariably struggles to gain currency with the masses. There's no doubting, though, that Yeezus is a conscious attempt at making a record that's meant to be interpreted as a serious artistic statement.
The first track, 'On Sight', lays the framework for much of what follows. A harsh-sounding Nine Inch Nails-esque electro beat is complemented by equally abrasive lyrics. Although the predominant sound is industrial techno, the album is not quite as minimalistic or uncommercial as some critics have suggested. As much as Kanye may have wanted to make his Metal Machine Music, someone (quite possibly the record company executives) has ensured the album is peppered with palpably poppy hooks, with the beautiful crescendo prompted by a heavenly voice wonderfully offsetting the predominantly harsh soundscapes and lyrics that permeate this opening track.
Given its constant fascination with electronic music and obvious desire for artistic credibility, even if it comes at the expense of commercial success (no singles were brought out ahead of its release), the album is somewhat reminiscent of David Bowie's Low – another case of an artist demonstrating a willingness to risk alienating his core audience in order to experiment and attempt to cultivate new and interesting sounds, while not entirely forgoing pop ('Sound and Vision,' after all, became one of Bowie's most well-liked songs).
That is not to suggest Kanye's career up until this point has been devoid of brave choices which risked jeopardising his career. Even his first album, while extremely accessible, featured 'Jesus Walks,' a song that immediately indicated his penchant for being an agent provocateur or, to use the modern parlance, trolling. Mentioning Jesus on American radio was considered taboo irrespective of the context, yet the rapper demonstrated his courage by flagrantly flaunting his apathy towards this rule.
The wheel has now come full circle with, as Pitchfork referred to it, his 'Bigger than Jesus' moment. After the pulsing drums and ode-to-excess meditations ("I'm doing 500 and I'm out of control") of the compelling 'Black Skinhead,' Kanye arrives at the statement that some would say he's been building towards his entire career on 'I am a God'. It is here where the American Psycho-isms are most prominent, owing to the ostensibly self-parodic levels of Patrick Bateman-esque arrogance West displays. However, you are never entirely sure how to interpret the rapper's relentless bravado – a feeling similar to that incurred upon reading his bizarre and brilliant recent New York Times interview. He reminds us that he's "the only rapper compared to Michael [Jackson]" and (this is where the parody seems overt) implores his imaginary subject to "hurry up with my damn croissants".
Paradoxically, Yeezus' most satirical number is followed by (arguably) Kanye's most earnest offering in the form of 'New Slaves' – a song already used to chilling effect during a rare performance on Saturday Night Live. Simple lines such as "clean water was only served to the fairer skin" could have easily come straight out of a Bob Dylan protest song, but its consistently base, sexually crude pronouncements ("I'd rather be a dick than a swallower") hint at a more modern sentiment, while still retaining the rawness that makes it the most primal song on this most primal of albums. It ends, though, with another beautiful, lilting moment of old-school soul that reinforces Yeezus' postmodern preoccupation with reconciling the retro and the new, as per the lyrics, and simultaneously provides the listener with another brief moment of respite from the album's invariably harsh rhythms.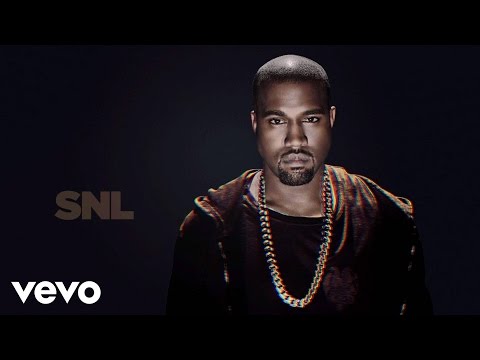 Although the record fails to remain as consistently accomplished after its first four songs, it is seldom boring thereafter. 'Hold my Liquor' finds Kanye at his most cantankerous and hopeless, referring to his auntie as a "skinny bitch with no shoulders" and announcing "bitch I'm back out my coma". Most of all, it seems to be about being trapped by the sense of feeling impossibly bored, as his slurred vocals and references to "waking up on your sofa" indicate disillusionment with life in the fast lane, despite the excess that it entails ("one more hit and I can own ya"). Again, the American Psycho themes of greed and apathy are patently evident. Moreover, it's by far and away his most 'Comfortably Numb'-sounding song and even contains a hazy, feckless electric guitar that's worthy of Pink Floyd at their spaciest.
'I'm In It,' meanwhile, is Kanye at his most disconcertingly affectless, as epitomised by the deliberately tawdry line – "eatin' Asian pussy, all I need was sweet and sour sauce". It reinforces the album's sound and ideas, without amounting to much else. Consequently, it's not quite filler, but it's probably the weakest and most lyrically uninteresting song on the record, replete with the rather corny and unfunny words: "I'm so scared of my demons; I go to bed with my night light."
Thankfully, 'I'm In It' is followed by the album's centrepoint – the 'Strange Fruit'-sampling 'Blood on the Leaves' – which nicely distils all of the record's core themes, encompassing Kanye's urge to place himself at the forefront of black musical history (the Billie Holiday reference feels significant), his disaffection with fame and nostalgia ("before the limelight stole me") and of course, channeling it all through a despairing techno-indebted vibe.
Kanye persists with his overt abrasiveness both lyrically and musically in 'Guilt Trip' and 'Send it Up,' though the former also contains hints of his past 808s sound, mainly as a result of its use of auto-tune. The latter track, meanwhile, which features King Louie and Beenie Man, is probably the album's most pure hip-hop song, and contains meta-rap lyrics such as "This the greatest shit in the club/Since In Da Club," before ending somewhat oddly on an existential note, with the lines:
Memories don't live like people do

They always 'member you

Whether things are good or bad

It's just the memories that you have
Finally, there is the surprisingly conventional soul of 'Bound 2,' which some have criticised as being a disappointingly tame ending to this fundamentally aggressive and uncompromising album. Nevertheless, it is far too interesting to be dismissed so readily. It is a mid-life crisis song to a point, with references to 30-year-olds wanting to be 21 and its bridge sung by someone who is "tired of loving, with nobody to love". It then promptly turns into something approaching a ballad; including words that are presumably inspired by his newfound love of Kim Kardashian ("one good girl is worth a thousand bitches"). Yet this sweetness is counterbalanced by a pragmatism and honesty that is at times decidedly unromantic, while seemingly mocking the cynical nature of celebrity relationships ("Maybe we can make it to Christmas"). Yet, at times, West's candour is refreshing and even touching – "okay, I don't remember where we first met" is one of the most truthful lovelorn admittances since Brian Wilson famously exclaimed "I may not always love you," amid the opening of The Beach Boys classic melancholia-tinged ballad, 'God Only Knows". Then again, other lines such as "I want to fuck you hard in the sink" aren't exactly Wilson-esque.
And thus, this closing song sums up all of Kanye's contradictions. Is he one of the greatest artists of the decade, a consummate prankster or an inherent narcissist on verge of megalomania-inspired insanity? Perhaps he's all three.