Album Review: The Glass Wall – Imani Coppola
Posted November 8, 2012 by Ramp.ie in
Pop
Overview
Genre
:
Pop, Rock
Artist
:
Imani Coppola
Label
:
Plush Moon Records
Year
:
2012
:
Pros:
Playful, musically diverse and compellingly written songs.
Cons:
Unlikely subject matter for standard popular music

A timely and starkly intelligent, genre hopping epic, which sees Coppola ditch her trademark sarcasm and quite simply, rock out her best album to date.
The Glass Wall is Imani Coppola's first album in 5 years, proceeding 2008's The Black and White Album, in which Coppola explored themes concerning growing up in a mixed race family in Long Island, New York. In what was an always interesting if sometimes difficult listen, Coppola appeared to crack some kind of creative barrier. With The Glass Wall, however, she emphatically manages to shatter it. After seven months in the studio with co-producer Josh Valleau, The Glass Wall emerges as one of the most unique listens of the year- beautiful, menacing, sombre yet somewhat paradoxically celebratory.
The tone isn't the only paradox. The influential genres themselves are extremely unlikely matches. In a single song alone, you might catch elements of opera, dubstep, 1980s metal or '80s/'90s cusp angst rock. There's a playfulness in the composition of the songs and a sense of letting the songs feed generously off whatever influences they need. 'Ave Maria' is one such example. It carries a pounding air that turns stadium rock right on its head, utilising sliding guitar wails and cock rock-esque solos that drive along towards a choral style conclusion.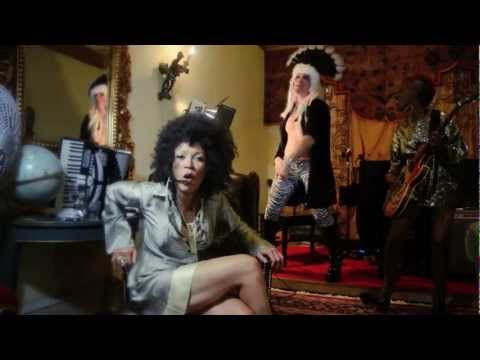 Album opener 'Say Hello' is a beautiful short piece that is a mesh of violin pizzicato with technologically altered vocals that leads into storming dancefloor anthem 'State of The Art', a commentary of the demise of human-to-human interaction with the rise of social networking. Coppola employs the use vocal editing to a large part of this aspect of the album- a very effective method considering she appears to be embracing some of the very ideas that the lyrical content is questioning.
Leaving behind production details, Coppola has the ability to write astounding songs based on lyrics alone. 'Catch 22′ and 'Fear and Loathing' are cases in point. 'Catch 22′ is pure beat and understated, electro buzz, which explores the perks and pitfalls of even bothering to fall in love in this day and age, as she states 'Love's a sullen child who will soon get bored/ I hesitate to say the kid is best left ignored'. 'Fear and Loathing', then, is a wistful, meandering birdsong evaluation of time spent versus time wasted.
'The Kids Are Dangerous' is one of the smartest and riskiest songs Coppola has ever written. Starting off as a simple acoustic social observation about today's youth and their awareness of the world around them, it elevates into full-blown dubstep dance-off. Lines like 'I'd rather be a nut than a case for a basket' highlights that the extent to which we are willing to analyse the society we live in can influence our own sense of happiness.
Best of all are 'Good For You' and 'The Same Pain', where Coppola channels and outperforms some of the best aspects of '90s- angst rock and trip hop. Picture, respectively, Portishead and Garbage with a less constrained, laissez faire perspective. Here is where Coppola really comes into her own, delivering songs that none of her fans will have been used to hearing. Her voice rises to the challenges of both, tackling mellow jazz tones and epic, soaring rock vocals in turn. Both will get under your skin and give rise to goosebumps in polar opposite emotional extremes. Apoptygma Berzerk-influenced synths punctuate 'The Wait of the World', whilst 'The Future' is an affirming, although somewhat schizophrenic acoustic piece, dotted with jarring dissonant breaks and gentle violin strains alike.
Overall, the album doesn't stop at being merely a commentary. It strives to capture the mix of danger, joy and moments of emotional frailty inherent in dealing honestly with modern-day life, including matters of love and interpersonal communication. Delivering through the cacophonic and melodic style that runs with Coppola's signature brazen lyrics, there is a forceful epiphany at play that life is good, if you're only willing to step out from in front of your screen and actually live it.
With this career defining album now under her belt, the future ain't what it used to be for Imani Coppola. The Glass Wall is a masterful collection of songs full of artistry, honesty and an overwhelming sense of fun and creativity. As a result, Coppola has cemented her place as one of the most criminally underrated songwriters on the planet.
Seán O' Toole
Seán O'Toole is student journalist from Galway. Political views include: Bertie Ahearn signing his booky wook in Easons; Mary Harney having her dinner one time in The Four Seasons; David Norris smiling and waving outside the Oireachtas; and Joan Burton giving filthy looks to young fellas in the Dáil Bar.