Album Review: How to Destroy Angels – Welcome oblivion
Overview
Genre
:
Industrial Electronica
Artist
:
How to Destroy Angels
Label
:
Columbia
Year
:
2013
:
Pros:
Absorbing, dark mood. Maandig is solid. Distinct enough from Reznor's past work.
Cons:
A couple more chorus driven songs would been nice to set the balance more evenly.

Reznor, wife, and friends, offer up an album with enough of an identity of its own, making for an enjoyable trip though the apocalypse.
Trent Reznor isn't one to sit on his hands. Since taking a break from Nine Inch Nails in 2009, he's been a busy man: winning an Oscar and a Golden Globe for his amazing work on The Social Network with Atticus Ross (yes, this man won an Oscar), composing the main theme for last year's Call of Duty, helping to form a Spotify competitor with Dr. Dre, and of course his musical partnership with his wife, Mariqueen Maandig, in the form of How to Destroy Angels. Releasing their first EP in 2010, it was clear that this would be at least a slightly different affair from Nine Inch Nails, although not overly so. A second EP was released late last year further expanding their range, with a promise of a full record still to come. Three years after their coming together, in the form of the irritatingly and deliberately mis-capitalised Welcome oblivion, we have a collection of songs that distinguish themselves while still retaining Reznor's trademark touch.
Maandig's singing, as no stranger to the microphone, having fronted the relatively unknown psychedelic rock group West Indian Girl for five years, contrasts well with Reznor's vocals. The two often share duties on the same song, overlapping and fading in and out over each other, such as during the chorus of 'Keep it together'. Maandig emerges as the primary voice of the band and does such a good job so as step out of Reznor's shadow; whenever he does chime in, it evokes a warm momentary fondness and acts as an almost nostalgic reminder rather than as a longing for him to remain permanently centre stage.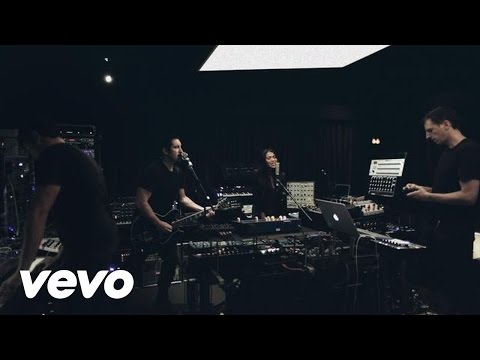 'Ice age' is the most surprising track on the album, sounding almost like a completely different band at first, with a folky riff that repeats throughout the entire song. It becomes more familiar as it progresses, the violent hum that characterizes both Nine Inch Nails and How to Destroy Angels juxtaposing well with the acoustic plucking. The two disparate elements blend together better than expected, creating the most unique sounding piece of music on Welcome oblivion. 'How long' is one of only a few songs that is chorus focused. A few more like it would have shifted the balance to a more equal position, but such is the strength of the more unrestrained tracks that it is only a minor blemish.
It's as dark as one would expect, swimming in a sea of swirling anxiety and world-ending doom. Many of the the songs have a certain, almost freeform jam-like looseness to them despite their actually quite structured nature. On the whole it's significantly more subdued and understated than previous Nine Inch Nail albums; there isn't really anything here that'll make you put your fist through your television in a fit of head banging insanity. But that's ok; in fact, it's the album's core strength. Were this simply NIN with a female voice, no matter how impressive, it would have been undeniably disappointing on some level.
With the confirmation that Nine Inch Nails are to return this year, it's entirely possible that How to Destroy Angels could be a once off. Even if this does turn out to be the case, the deviation has been a fruitful and worthy undertaking, resulting in a dark and sombre journey through oblivion that's worth taking again and again.